Stress-Free Dream Yard!
Your Yard Transformation Starts with Beautiful Synthetic Turf & Pavers
0% Interest for 12 Months!
For a Limited Time, Save Up To
All Turf and Pavers Materials*
Special Financing Available**
Over 200 - 5 Star Rated Reviews on Yelp & Google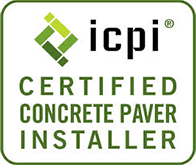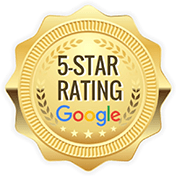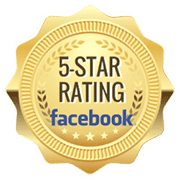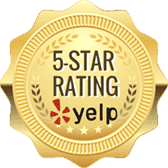 BRING YOUR
VISION TO LIFE
Outdoor Entertaining, Poolside Bar-B-Ques, Touch Football Games, Playing with Your Pets – All the Possibilities You Envision.
DESIGN &
PLANNING
Our Experienced Designers Work with You to Create the Perfect Environment with the Highest Quality Products and Finishes.
CONSTRUCTION
& FOLLOW UP
Our #1 Goal is to Provide a Peaceful and Respectful Installation Process and We Guarantee Your Satisfaction Now and in the Future.
Create the perfect outdoor sanctuary with

synthetic grass and pavers!
With incredible payment options available nothing is standing in your way of a dream outdoor living space. Our yard specialists will create a No Obligation, custom design for your yard!
Today's synthetic turf is
beautiful
versatile
eco-friendly
Modern turf replicates the lush beauty of the finest cared for lawns and is sure to be the envy of your neighbors.
Get a free, No Obligation Quote Today
INTERLOCKING

PAVER SYSTEMS
The perfect solution if you are looking for a customized hardscape design option that adds tons of curb appeal, is much stronger and more durable than traditional wood decking, and is virtually maintenance-free.
What have you always dreamed about… an outdoor kitchen, a fire pit, a vine-covered pergola to entertain family and friends? Let Vision Turf & Pavers make those dreams a reality with a custom-built patio cover.
Look at Our Yard Transformations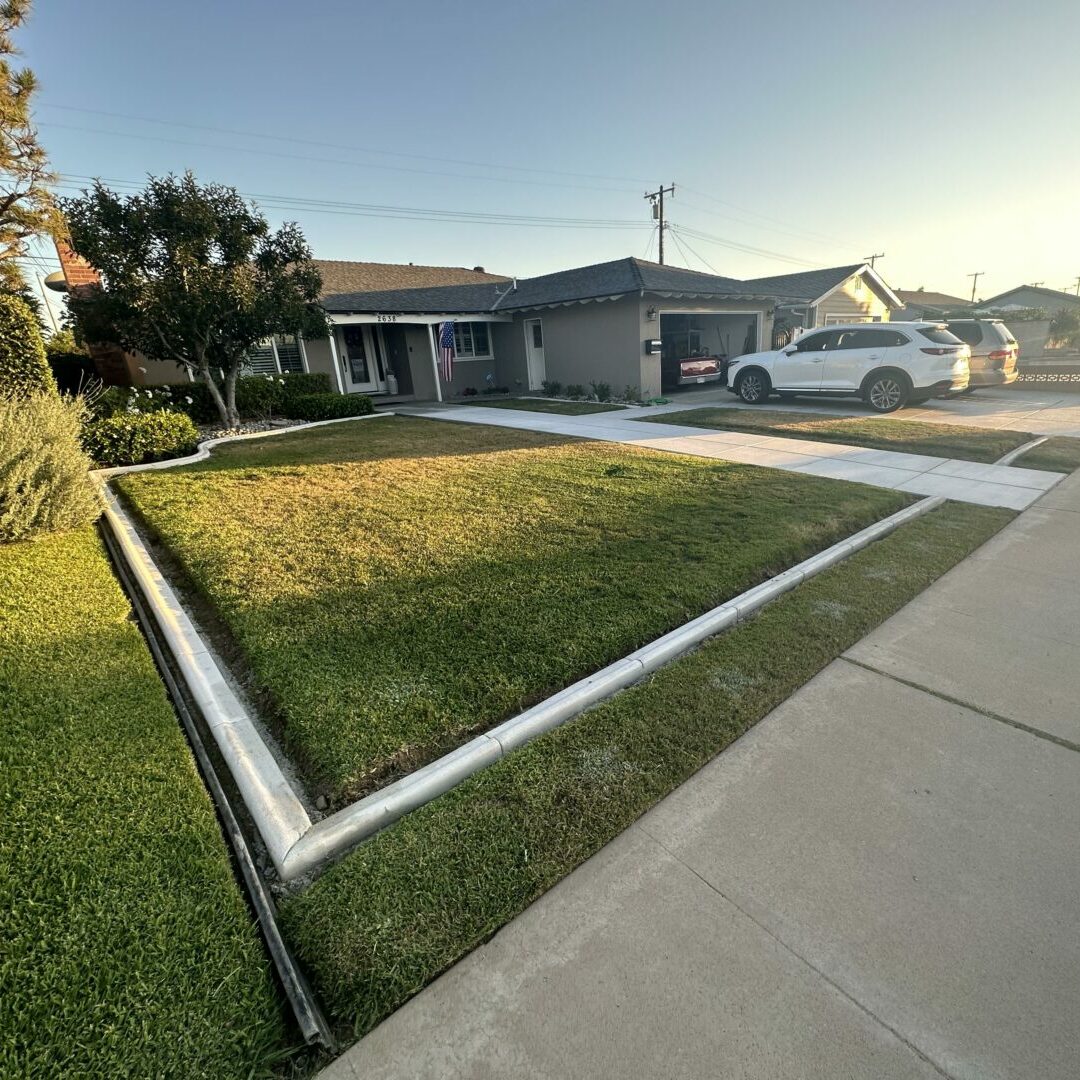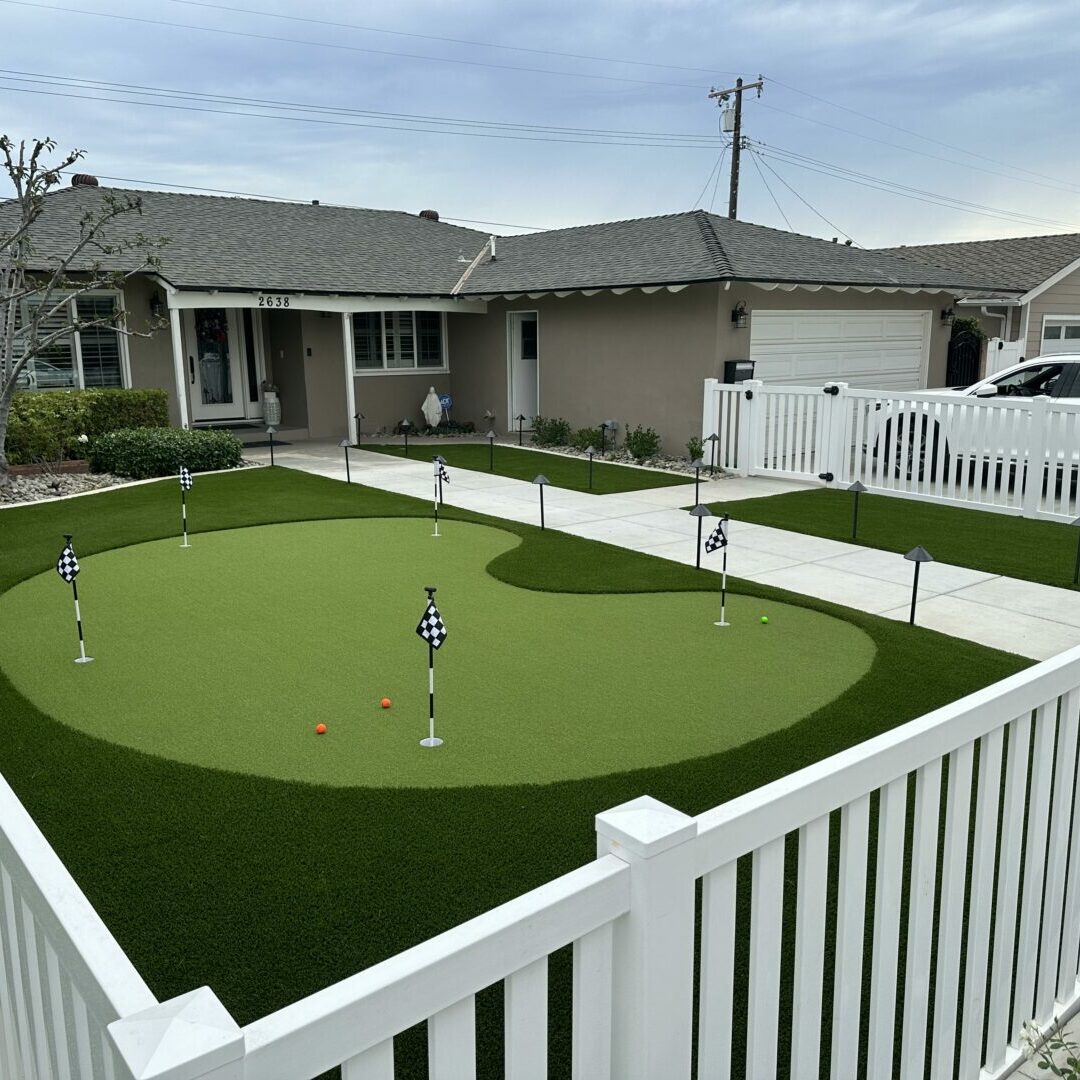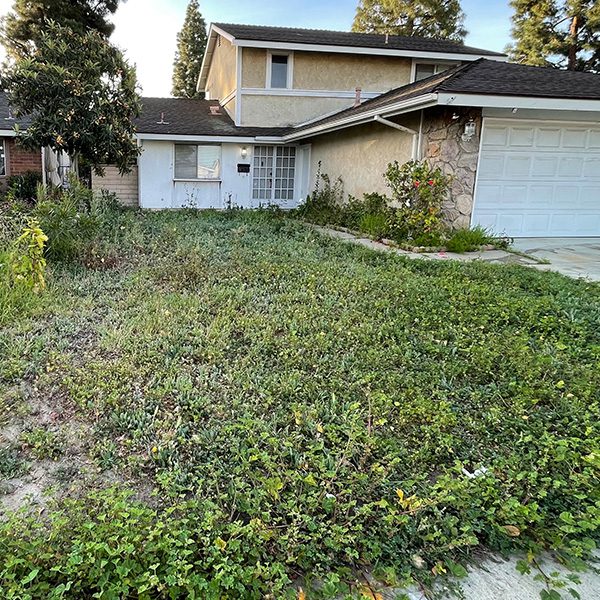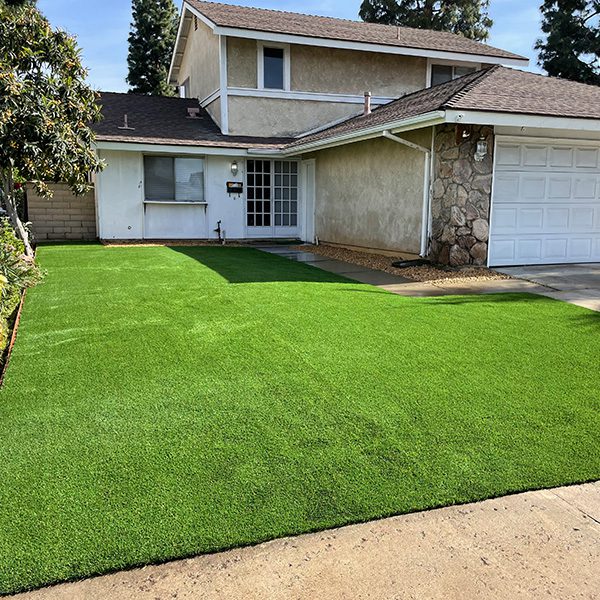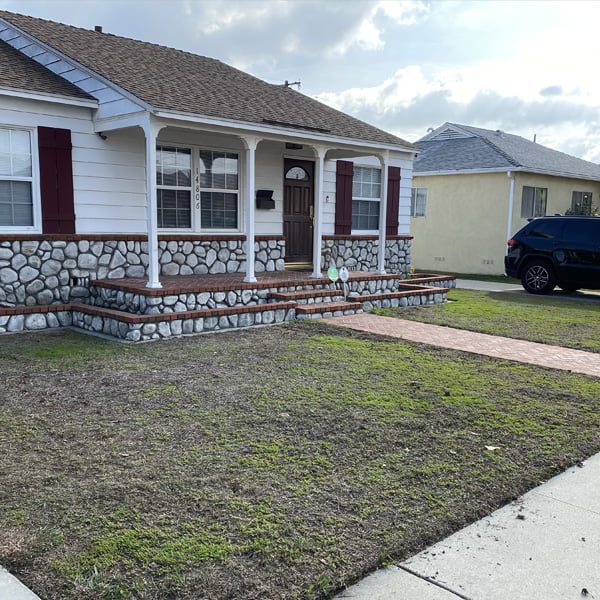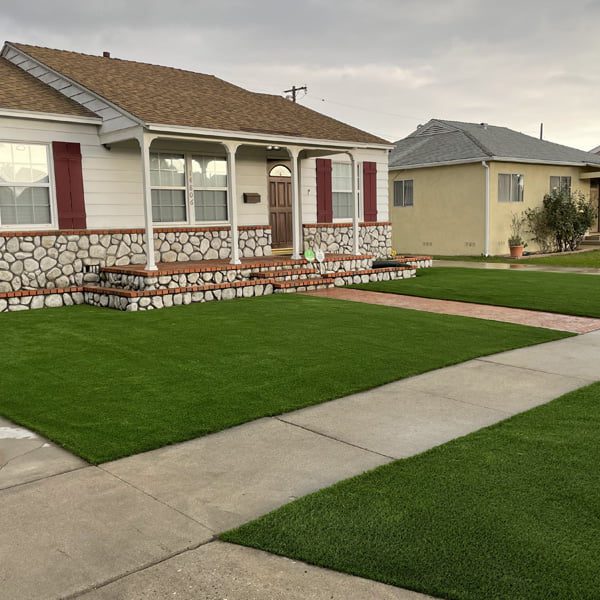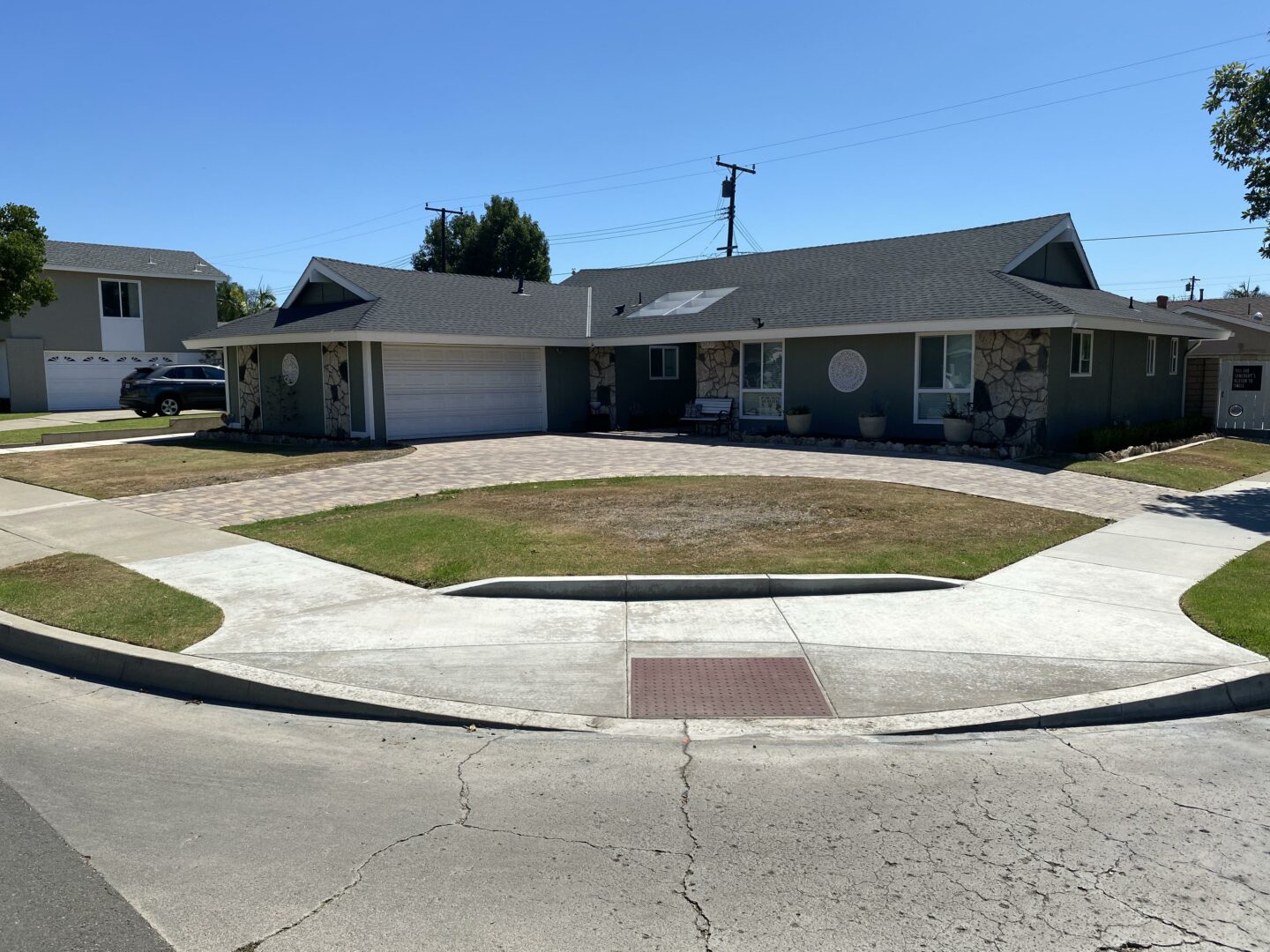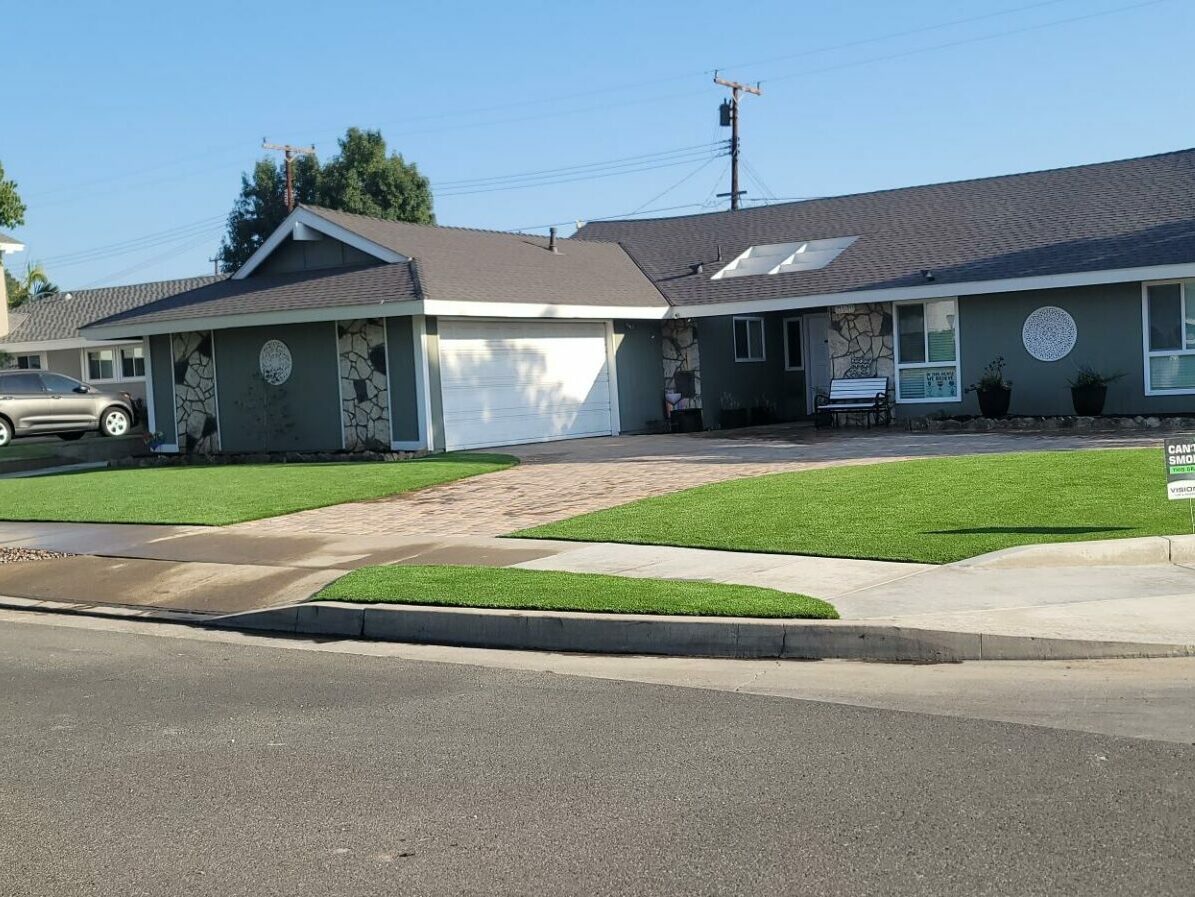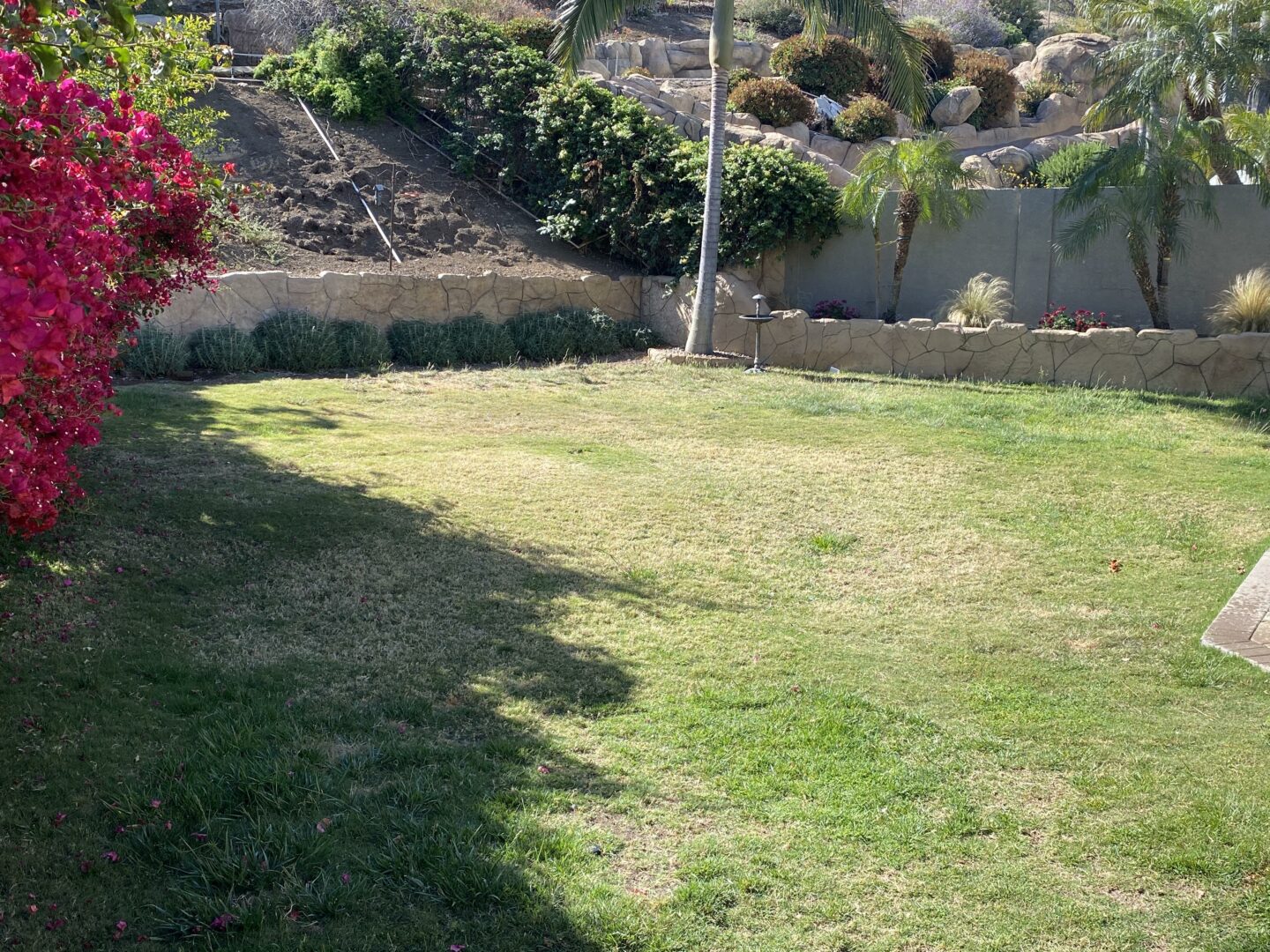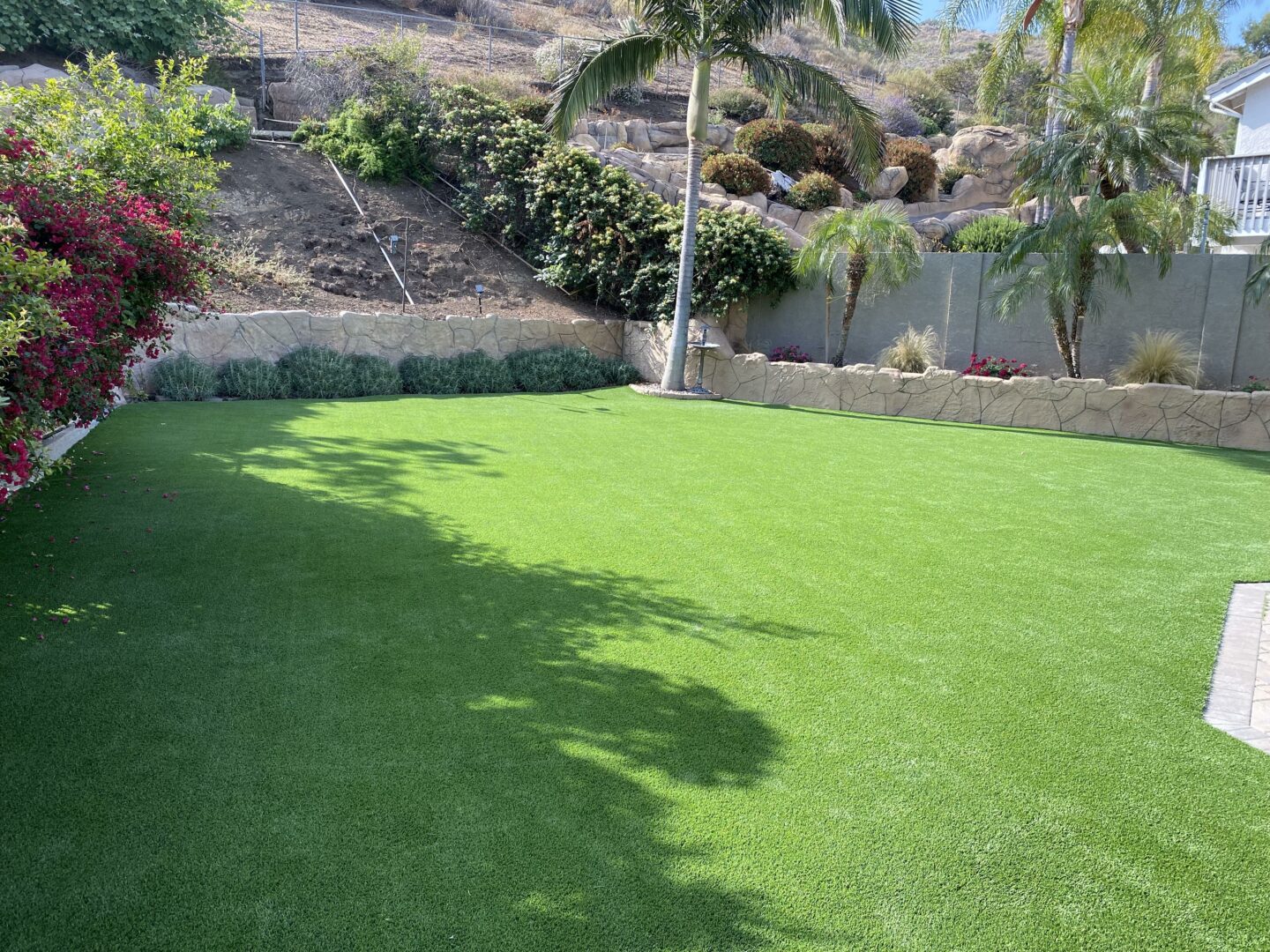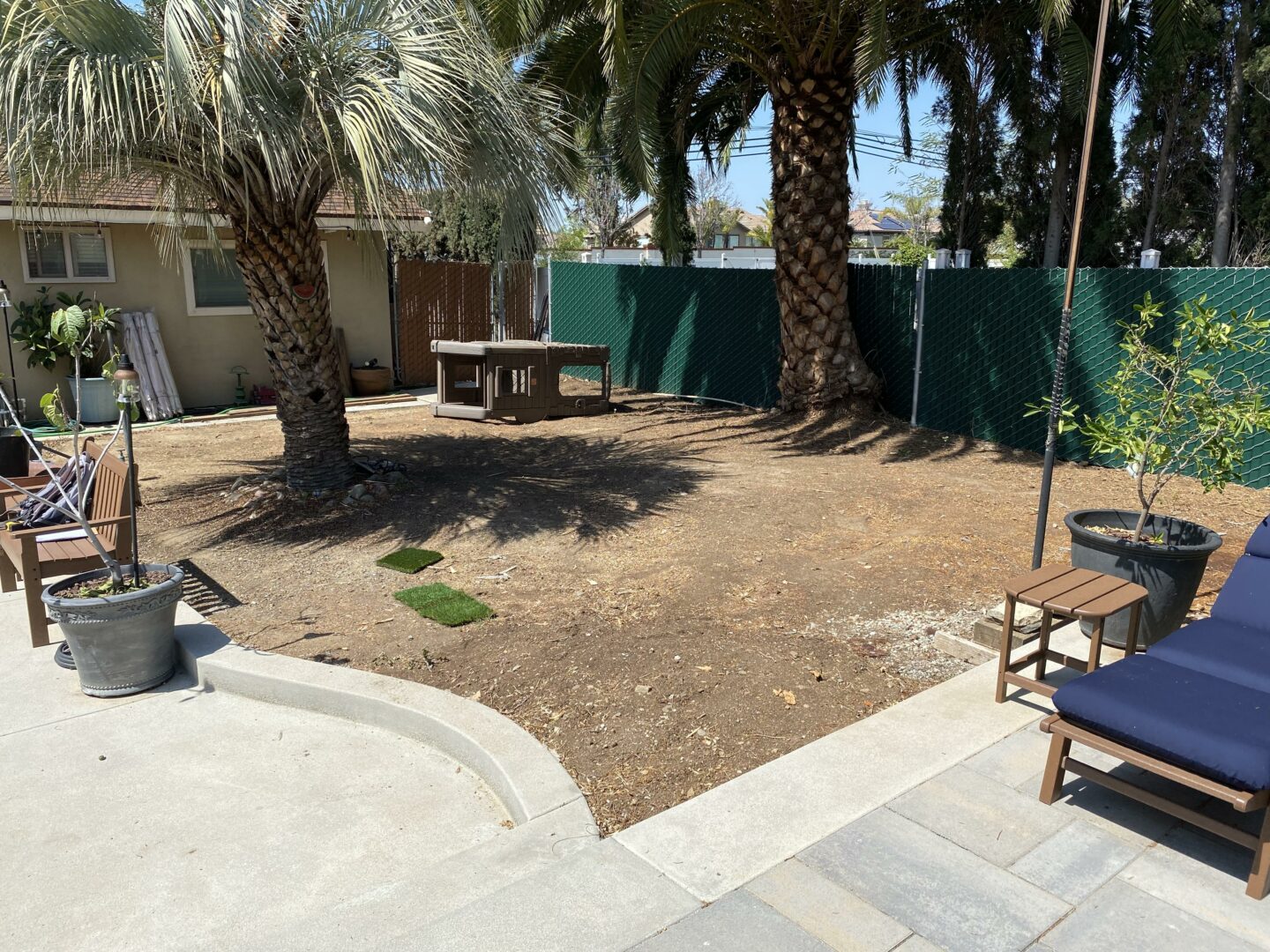 Regina from Moreno Valley
Schedule a free estimate today
Frequently Asked Questions
Artificial or synthetic turf is a surface with a look and feel similar to natural grass. It is becoming a popular choice for homeowners as an alternative to traditional laws. Over time, Artificial turf is going through an evolution, resembling natural grass.
Artificial turf is made from synthetic fibers like polyethylene or polypropylene and offers numerous advantages compared to natural grass. One of its main benefits is low maintenance. Unlike natural grass, you don't have to mow, water, or fertilize it, which saves you time and resources. Plus, it remains lush and green all year round, regardless of the weather
Artificial turf is an excellent alternative to natural grass for creating a lush green lawn. It is a durable outdoor solution that requires low maintenance and is ideal for play areas.
Here is how this fantastic artificial grass comes into being:
1. Raw Materials
Creating artificial turf starts with carefully choosing the ideal materials. Typically, the base is made of a woven or non-woven fabric, ensuring stability and strength. Meanwhile, the blades mimic natural grass using durable polyethylene or polypropylene, both resistant to wear and tear.
2. Tufting Process
After choosing the materials, we kickstart the tufting process. We carefully insert the grass blades into the fabric base using special machines. These machines create various patterns and densities, letting us customize the turf to achieve your desired look and performance. It's all about ensuring you get the perfect artificial lawn.
3. Coating and Backing
Once the tufting process is complete, the artificial turf undergoes a coating and backing procedure. A layer of latex or polyurethane is carefully applied to the back of the turf to secure the grass blades and add extra strength. This backing keeps the turf intact and enhances its resistance against tears or unraveling.
4. Kiln Drying and Cooling
After coating and backing application, the artificial turf goes into a kiln for drying and cooling. The kiln sets the latex or polyurethane, giving us a fully cured turf. This step is essential for the product's durability and longevity.
5. Infill
The artificial turf may undergo an infill procedure once the drying and cooling process is complete. We add Infill materials like sand or rubber granules to the turf to enhance stability and cushioning. Which improves overall performance. Additionally, the infill helps weigh down the turf, ensuring it maintains its shape effectively.
6. Quality Control
During this stage, our artificial turf goes through thorough quality control checks. We meticulously inspect every turf roll for any defects or inconsistencies in the tufting, coating, or backing. Our main goal is to deliver only the finest and highest-quality products to our customers.
7. Installation
After passing the quality control checks, the artificial turf is all set for installation. We take precise measurements and cut them to fit your chosen area. Using adhesive or nails, we carefully secure the turf to the ground. Our team knows proper installation is the key to achieving a seamless and long-lasting result.
Yes, artificial turf and artificial grass are interchangeable terms. Both terms refer to synthetic options for natural grass, which makes them perfect for sports fields, lawns, and landscaping. Fake grass comprises polyethylene or polypropylene material that keeps it green annually.
More and more people are turning to artificial turf instead of natural grass. And why wouldn't they. Synthetic turf is firm, looks good, saves water, and saves money. Additionally, it comes in different variations and styles. So, you can choose what suits your requirements.
The average cost of installing artificial turf can vary due to several factors. Factors like area size, turf quality, and additional features can influence the price. It ranges between $10 to $20 per square foot, including materials, labor, and preparation work such as grass removal or ground leveling. It's important to note that this estimate is just an average, and your actual cost may vary depending on your specific project details. Contact Vision Turf to get the latest price quote specific to your requirements.
At Vision Turf and Pavers, we make your landscaping dreams a reality without straining your budget. We aim to provide flexible financing options for your artificial turf and paver installations. Creating a stunning outdoor space can be a significant financial commitment. That's why we help you every step of the way.
Our team collaborates with reliable financing partners, offering a range of payment choices tailored to your budget. We have options to suit you, whether the whole project or just a part.
Several factors come into play when determining the lifespan of artificial turf. Built quality and foot traffic are the main factors contributing to its lifespan. Proper maintenance extends the life of high-quality turf to 15 to 25 years.
Always follow maintenance tips and manufacturer's guidelines to keep your artificial turf looking its best for years. Regular brushing is vital to prevent matting. Also, give it a periodic cleaning to remove debris and prevent bacteria growth. And if you spot any damage or issues, take care of them promptly. With some respect, your artificial turf will stay in great shape and enhance your outdoor space.
Remember that using artificial turf excessively or having lots of foot traffic can lead to quicker wear and tear. If you expect high usage or have specific requirements, talking to the turf manufacturer or installer is a good idea.
Artificial turf needs to be improved maintenance, unlike natural grass lawns. No more regular mowing, watering, fertilizing, or dealing with pests. You can say goodbye to all those tedious tasks with artificial turf and enjoy a hassle-free, beautiful lawn.
But remember, even with artificial grass, you'll need to put in a bit of effort to maintain its pristine look and performance.
1. Brushing
Regular brushing ensures your turf stays in top shape. Moreover, it prevents matting and keeps the grass standing tall. You can use a stiff bristle brush or a power broom for this task. Not only does brushing maintain the turf's appearance, but it also helps redistribute the infill material, ensuring a fresh and appealing look.
2. Cleaning
Regular cleaning is essential to keep your artificial turf in top shape. Simply clear away debris like leaves, twigs, and pet waste with a leaf blower or a gentle hose spray. You can use a mild detergent and water solution for tougher stains or odors.
3. Grooming
Over time, the infill material in artificial turf may get compacted and lose its bounce. A simple grooming routine ensures your turf remains evergreen. Just rake or brush the infill at least once a year or whenever necessary.
4. Weed Control
Although artificial turf is weed-resistant, it's possible to notice some weed growth along the edges or where the turf meets other surfaces. To maintain a weed-free lawn, inspect the turf regularly and promptly remove any weeds you spot. You can use a weed killer or do it by hand. Keeping an eye on your turf will ensure it stays in great shape.
5. Repairs
Promptly address any damage or repairs to your artificial turf. It includes fixing tears or holes, replacing damaged infill material, and re-seaming loose seams. Taking care of these issues right away will help ensure the longevity of your turf and keep it looking great for years to come.
When installing artificial turf, hiring a professional specializing in this field is a great idea. They'll take care of everything, from ensuring proper installation with suitable infill material and good drainage to considering any unique challenges or requirements of your landscape, like slopes or uneven surfaces. Trusting an expert will guarantee a flawless outcome for your new turf.
When installing artificial turf, it's essential to leave it to professionals like Vision Turf. We ensure a proper installation with suitable infill material and drainage. Our expert team will consider your landscape's unique aspects, like slopes or uneven surfaces. With our professional support, you can be confident in a seamless and top-notch result.
Definitely! While pet and landscape turf might seem alike, they have distinct roles. Pet turf handles the activities of your furry pals, remaining sturdy and easy to care for. It's the ideal choice for your pets. Let's highlight a couple of key differences:
1. Drainage
Pet turf is an excellent choice for your backyard or dog run. It has top-notch drainage systems to remove pet urine and water swiftly. Which helps minimize odors and prevents bacteria buildup. With pet turf, you can enjoy a clean and fresh outdoor space for your furry friends.
2. Odor control
Pet turf usually contains special additives to stop bad smells by preventing smelly bacteria. So, your turf stays nice and clean, even where your pets always play.
3. Durability
Pet turf is made from rigid materials, built to withstand your active pets' antics like digging, scratching, and rowdy play. Its ingenious construction ensures lasting durability, so it remains in top-notch condition even with your furry friends romping around.
4. Cleaning
Both kinds of turf require regular cleaning. Pet turf, however, often needs more frequent cleaning because of urine and waste. It's essential to pick pet-friendly turf that's simple to clean and maintain. Hence, this makes it easy to quickly and effectively clean up after your pets.
When you're picking turf for your landscaping, consider your needs. For pets, opt for pet turf. It's durable and lasts long, just right for your furry pals. Seek guidance from a pro installer to pick your ideal turf and guarantee a proper setup.
Absolutely! Synthetic turf is a safe playground choice if you ensure proper installation. Here are some essential safety factors to consider for synthetic turf playgrounds:
1. Impact absorption
Safety is a top priority for playgrounds. That's why we ensure that our synthetic turf has a special shock-absorbing underlay. This thoughtful design helps cushion falls, providing extra protection for kids and reducing the risk of injuries.
2. Fall height rating
When picking synthetic turf for your playground, it's crucial to choose one with a fall height rating that matches or surpasses the maximum fall height of the equipment. In this way, you can be sure the turf will offer adequate protection in case of any falls.
3. Testing and certification
When searching for synthetic turf products, prioritize those that have undergone safety testing and certification by reputable organizations. Certificates from the International Play Equipment Manufacturers Association (IPEMA) signify that the turf meets specific safety standards.
4. Non-toxic materials
Make sure the artificial turf you choose is made from safe, non-toxic materials that won't harm children. Check the turf fibers, infill materials, and adhesives used during installation to ensure they are child friendly.
5. Proper maintenance
Keeping the synthetic turf safe for playground use is essential, which means regular maintenance. You should remove debris, check for damage or wear, and promptly address any issues.
We highly recommend you seek advice from a professional turf installer for a safe and long-lasting playground. Moreover, we'll guide you on proper maintenance practices to maintain the turf in excellent condition for many years.
Artificial turf has an intelligent design that handles rain and water with ease. Its perforated backing drains the water, preventing pesky puddles or water buildup on the surface. Depending on the product and installation, artificial turf can drain at an impressive rate of 30 inches per hour or even more.
Apart from the perforated backing, a base layer of crushed stone or gravel is added during installation. This foundation serves two purposes: it provides stability and assists in water drainage. With this base layer, you won't have to worry about water pooling on the surface; instead, it will effectively flow away from the turf, keeping your lawn in top condition.
Proper installation ensures your water drains efficiently. A professional installer will evaluate the landscape and make necessary adjustments to ensure the appropriate slope and grading for optimal water flow. They'll also provide the base layer has proper leveling to promote efficient drainage.
When it comes to artificial turf, water drainage is crucial. Remember that it's not just the turf itself but also the sub-base and the surrounding soil that influence how well the water flows. So, before installing artificial turf, address any existing drainage problems in your landscape. Hence ensuring proper water flow and preventing any issues downstream.
Artificial turf is a smart choice for outdoor areas as it effectively handles rain and water drainage. It's a practical and low-maintenance option that keeps your space looking great without the hassle.
Artificial turf is an excellent choice for those with allergies. Unlike natural grass, it doesn't produce pollen, a common allergen for many people. Moreover, it doesn't trap allergens like mold as natural grass sometimes does. Hence, you can relish a stunning lawn without fretting about allergies acting up.
Artificial turf is a popular choice for folks who deal with allergies. Unlike natural grass, it doesn't let out pollen, a significant allergen for many. Plus, you won't find stuff like mold, another allergy trigger, on artificial lawns.
Opt for high-quality artificial turf crafted from safe materials to keep allergies at bay. Proper upkeep is key to preventing dust or allergens from accumulating. Regular cleaning and grooming maintain your turf's excellent condition and lowers the chance of triggering allergies.
If someone in your household has allergies or sensitivities, it's wise to consult a healthcare professional before getting synthetic lawns. They can help you decide if it's suitable for your situation.
In general, Artificial turf is allergy friendly. But keep in mind that people's sensitivities differ. Choose a top-notch product that suits your needs best to lower allergy risks.
More and more homeowners and businesses opt for artificial grass, seeking that evergreen lawn appeal throughout the year. One common question is whether it's effective in reducing bugs and pests. Let's delve into the connection between artificial grass and bugs and see if it can keep those unwanted critters away.
Bugs are naturally drawn to grass for a good reason. It offers them a cozy habitat with plenty of nourishment. Natural grass's warm and damp environment creates a perfect breeding place for these critters. Moreover, bugs find organic matter like leaves, roots, and decaying debris in grass tempting.
Unlike natural grass, artificial grass turf is made from synthetic materials that insects don't find appealing. It offers them a different habitat or food source. So, with artificial grass, you can say goodbye to those pesky bugs and pests in your outdoor space.
Moreover, when you install a synthetic lawn, it sits on a compacted gravel or sand layer. This clever setup makes it challenging for pesky insects to burrow and create nests, keeping them at bay. You can say goodbye to those annoying pests with artificial grass and enjoy a more pleasant outdoor experience.
Even though artificial grass can help reduce bugs and pests, it's not entirely pest-proof. Some insects might still be drawn to other parts of your property or find their way onto the artificial lawn if they're already in the surrounding environment. Nonetheless, artificial grass is less attractive to bugs and pests and needs to provide a suitable habitat, significantly minimizing their presence.
Another great thing about artificial grass is its resistance to bugs. Unlike natural grass, which requires pesticides and insecticides to keep pests at bay, artificial grass saves you from using harmful chemicals. Enjoy a bug-free lawn without worrying about any potential risks.
Many homeowners and businesses nowadays opt for artificial grass, enjoying its low-maintenance and evergreen appeal. A common question that arises is whether synthetic turf can boost property value. Let's explore the connection between artificial grass and property value to help you make intelligent decisions.
When it comes to property value, there are essential factors to consider. First and foremost, curb appeal is crucial. A beautifully kept lawn can enhance your property's overall look, leaving a positive impression on potential buyers or guests.
Artificial Turf thrives even in harsh climates and requires minimal water, making it a perfect choice for water-scarce areas. Not only does it keep your yard looking stunning consistently, but it also adds a touch of charm to your property. Hence attracting more buyers and increasing its overall value.
Consider the low-maintenance benefits of artificial grass. Unlike natural grass, you won't need to water, mow, or use fertilizers and pesticides. It is a significant selling point for potential buyers who appreciate easy landscaping. Say goodbye to constant lawn care, saving time and money, and adding value to your property.
You can install artificial grass turf on a slope. Artificial turf is an excellent choice for areas where it's tough to maintain natural grass. But before you go ahead with installing it, there are a few important factors to consider.
Make sure the slope has proper drainage to prevent water build-up and damage. You can achieve this by installing the turf, setting up a drainage system, or using a permeable base.
Moreover, selecting a suitable infill material is crucial when dealing with slopes. This choice stabilizes the turf and prevents slips and shifts effectively. Furthermore, the chosen infill significantly boosts the turf's durability and lifespan.
Installing artificial turf on a slope requires expertise, unlike flat surfaces. Hiring a professional for slope installations is always a good choice. At Vision Turf, we can help you install fake grass on your slope by considering your unique requirements.
You can recycle astroturf. Today, there's a strong emphasis on being eco-friendly in construction and landscaping. Many manufacturers have recycling programs just for artificial turf.
Recycling artificial turf is an exciting process. It involves separating its components, such as synthetic fibers and backing material. After detaching these parts, you can recycle or repurpose them for different purposes. For example, synthetic fibers create new turf products or other synthetic materials. Choosing an eco-friendly approach reduces waste and contributes to the environment.
Recycling artificial turf brings a double advantage. First, it cuts waste and conserves resources, keeping the turf out of landfills. Second, it makes landscaping more sustainable and eco-friendlier.
Consider artificial turf a fantastic eco-friendly option for your lawn—no more constant watering, fertilizing, or mowing like with natural grass. Say goodbye to those maintenance headaches. Artificial turf also helps save water and avoids the use of harmful chemicals.
Unlike natural grass, artificial turf doesn't require pesticides or herbicides. In this way, it benefits the environment and enhances our well-being. By eliminating these chemicals, artificial turf contributes to a safer and healthier outdoor area.
Artificial turf is truly revolutionary for our environment. With less mowing and trimming, there's a reduction in harmful greenhouse gases and air pollution. Plus, it actively fights carbon emissions and improves the quality of the air we breathe.
Consider artificial turf for water conservation. Unlike natural grass, it doesn't require constant watering, making it an eco-friendly choice. Hence, it is helpful in regions dealing with drought or scarce water resources.
Always opt for sustainable products to reduce the environmental impact of artificial turf. Proper disposal and recycling of artificial turf at the end of its lifespan is also crucial for environmental friendliness.
When installing artificial turf, it's best to hire a professional. They have the expertise and equipment needed for a successful installation. At the same time, you can DIY to save money. However, there are several good reasons why seeking professional help is beneficial.
Professionals bring valuable knowledge and expertise to the table. They'll ensure the area is ready for installation, leveling the ground, clearing away any debris, and creating a solid base for the turf. Proper preparation is key to a flat and even turf that stands the test of time.
In addition, experts have access to specific gear that streamlines the installation process, making it more efficient and effective. It includes tools for cutting and shaping the turf and equipment for securely securing it. Professionals can guarantee flawless and high-end installation by using the appropriate equipment.
Moreover, hiring professionals gives you the advantage of their experience with various artificial turf types. They can guide you in choosing the perfect product for your needs, considering factors like pile height, durability, and maintenance requirements. With their expertise, you'll be sure to select a turf that meets your expectations and lasts for years to come.
Lastly, hiring a professional for the installation saves you time and effort. Installing artificial turf can be labor-intensive, especially if you do it alone. Let experts like us handle it while you focus on other projects or activities. Sit back and relax while we efficiently take care of the installation for you.
Yes, pet turf is generally safe for pets. However, it's crucial to consider a few key factors to ensure the safety and well-being of your furry friends.
Firstly, choose artificial pet turf that prioritizes high-quality options tailor-made for pets. Look for non-toxic materials that are safe for your furry friends. These turfs are durable, odor-resistant, and stain-resistant, ensuring a pet-friendly environment.
Keeping your synthetic turf safe for pets requires proper maintenance and cleaning. Consider disinfecting the turf occasionally to maintain a clean and safe space.
Designating a specific spot for your pets to do their business is crucial. You can create a separate area or opt for pet-friendly artificial turf to manage pet waste efficiently. Hence ensuring a clean and easy solution for your beloved furry companions.
Artificial grass is generally safe because it's made well and installed correctly. But there are key points to remember for ensuring its safety.
Above all, when choosing artificial grass, make sure it's free from harmful chemicals. Opt for high-quality options made from safe materials for both humans and pets. Feel free to ask the manufacturer about the grass's materials to ensure complete safety.
Ensuring safety is paramount when installing artificial grass. For the best results, consider enlisting professionals like Vision Turf and Pavers. We guarantee a secure installation, eliminating tripping hazards and securing all edges to prevent potential injuries.
Safety is a top priority when it comes to artificial grass maintenance. Just like natural grass, it can accumulate dirt, debris, mold, or bacteria over time. Regularly clean your turf for longevity. Simply sweep or vacuum the grass, remove any debris, and give it a good rinse with water.
Yes, Artificial turn does get hot in peak summer months. However, thanks to technological advancements and better materials, we've found ways to minimize heat absorption and retention in artificial turf.
One way to achieve this is by using heat-reflective materials. Due to their heat absorption ability, these remarkable materials can reflect the sun's rays. As a result, it keeps the temperature from rising and creates a more comfortable outdoor space.
Infill material greatly influences artificial turf. Infill is the material present between the turf blades for stability and cushioning. Some infill types, like rubber, retain heat, making the turf hotter. Luckily, there are alternatives like sand or organic materials that don't have heat as much. So, even on sunny days, these infill options help keep the turf cooler.
Remember that artificial turf does get warm but is generally less hot than natural grass. Natural grass retains more heat than artificial turf, making it feel more desirable. But don't worry! You can simply water your artificial turf to cool off, providing a comfortable and more excellent surface.
Consider adding shade to your outdoor area to keep your artificial turf cooler. You can do this by positioning trees strategically or setting up shade structures like pergolas or umbrellas. With shade, you'll decrease the amount of direct sunlight hitting the turf, which in turn reduces heat absorption.
Moreover, you have the option to go for light color artificial turf. Lighter shades reflect more sunlight and heat than darker ones. So, by choosing a more golden hue of synthetic turf, you can effectively lower the temperature of your outdoor space.
Artificial grass is a significant investment at the start. Due to high quality, materials, labor cost, and extra features, the price may increase. However, you save money in the long run.
Fake grass offers numerous advantages over natural grass as it doesn't require watering, mowing, or fertilizing. You get to save money on these tasks. Additionally, it saves money on water bills. Plus, it has minimal maintenance and lasts longer.
Artificial turf plays a vital role in preserving water. In places where there is water scarcity, it becomes a favorable choice. Unlike natural grass, it doesn't need any watering. Hence you preserve water and the environment.
In addition, you don't need herbicides or pesticides for your artificial grass. As these chemicals are costly and also a risk to the environment. Eliminating them saves you money while protecting the environment.
In summary, Fake grass is more economical than natural grass in the long run.
An artificial turf is an excellent option for preventing weeds. Unlike natural grass, it creates an environment that makes growing and spreading difficult for weeds. Here are a few reasons why artificial turf effectively stops weed growth:
1. Weed Barrier
When putting in artificial turf, using a weed barrier below it is wise. This particular cloth stops weeds from popping up through the turf. It works as a barrier, preventing weed seeds from growing.
2. No Soil
Unlike natural grass, artificial turf doesn't rely on soil. So, no need to stress about pesky weeds invading your lawn. Weeds thrive in mud, but with artificial turf, you can wave goodbye to the endless battle against them.
3. Infill Material
Artificial turf usually has infill material like sand or rubber granules for several important purposes. It stabilizes the turf and keeps the blades standing tall. Plus, it prevents weed seeds from finding a place to grow.
4. Regular Maintenance
While artificial turf is low-maintenance, it still needs some care to keep weeds at bay. Regularly brushing and rinsing the turf will clear away debris and organic matter that could become a breeding ground for weeds. If you spot any growing weeds, just remove them promptly to prevent them from spreading.
To sum up, installing and maintaining artificial turf prevents weed growth.
Installing artificial grass usually takes 1-2 days, depending on your project's size and complexity. Here's how it breaks down:
1. Site Preparation (1-2 hours)
Before installing the artificial turf, we'll first clear the area of any vegetation, rocks, or debris. Next, we'll level and compact the ground to ensure a stable and even surface for the turf.
2. Base Installation (4-6 hours)
To prepare for turf installation, we'll lay a base layer of crushed stone or gravel. It's crucial because it helps with drainage, preventing water from accumulating on the turf.
3. Weed Barrier and Edging Installation (2-4 hours)
First, we lay a weed barrier fabric on the base. A weed barrier fabric helps to keep pesky weeds from sprouting up. Then, we install edging material around the perimeter to secure the turf. It ensures that your artificial lawn stays in perfect position, looking great for years.
4. Artificial Grass Installation (4-8 hours)
First, we lay out the artificial grass rolls and trim them to fit the area. Next, we secure them in place using nails or adhesive. Carefully joining the seams between rolls creates a seamless and natural appearance.
5. Infill Material Application (2-4 hours)
To enhance the stability, cushioning, and support for the artificial turf, we evenly spread infill material like sand or rubber granules. We then carefully brush this infill into the turf fibers, ensuring it's distributed evenly.
6. Final Cleanup and Inspection (1-2 hours)
Before installing the turf, we ensure the area is spotless, removing any excess materials or debris. Our team carefully inspects the turf for imperfections and gives extra attention to any areas that may need it.
We're not just experts in artificial turf installation. Our team also specializes in hardscape installation, providing various services to enhance outdoor space. Whether you're looking for paver patios, driveways, concrete walkways, retaining walls, fire pits, or patio covers, we've got you covered. Our professionals use high-quality materials and techniques for lasting durability in every hardscape feature. Let us turn your outdoor area into a lush green field.
Installing fake grass on your own may seem exciting. But you need to have specific skills to install it properly. Here are some factors to consider before installing artificial turf yourself
1. Skillset
Installing artificial grass requires some effort and skill. You must prepare the site, lay the base, secure the turf, and precisely add infill. If you enjoy landscaping or DIY projects, consider trying it. But if you're new to this, hiring a professional for a smooth process is a good idea.
2. Specific Equipment
By DIY, you will need specific tools. Essential tools include turf cutters, compactors, and infill spreaders. All of which may be costly or need the expertise to use them. If you don't have access to these tools, you may be unable to install them. Therefore, it would be better to let professionals handle the job.
3. Time and Effort
Installing artificial turf is an extensive process. It's quite an effort from preparing the site to laying the base and spreading the infill. Additionally, every outdoor space varies, so there may be some complications. Therefore, professionals like us can help you effectively install your artificial grass.
4. Warranty
If your DIY installation fails, you won't get anything but disappointment. In the case of professionals, they would give you a warranty, which you can claim when anything goes wrong.
In short, considering DIY artificial grass installation might be tempting. But evaluating your skills, resources, and time is vital before you start. Opting for a professional installer ensures a high-quality, long-lasting result. If you need more clarification about your abilities, it's wise to seek guidance from an expert.
Absolutely! Artificial turf is a fantastic choice for pool areas. It's trendy due to several reasons.
Using synthetic turf around a swimming pool brings a multitude of benefits. One significant advantage is its remarkable ability to withstand moisture and water. Unlike real grass, fake turf resists water, ensuring long-lasting durability in poolside areas. It stays free from mud and puddles, providing a clean, dry surface for relaxation and movement.
Artificial grass is delightfully soft and comfortable to walk on. It creates a pleasant surface for strolling around the pool barefoot. Not only that, but it also provides reliable non-slip properties by reducing the risk of slips and falls.
One great thing about artificial turf is how low maintenance it is. Unlike natural grass, you don't have to worry about watering, mowing, or fertilizing. Hence it frees time, less effort, and savings on pool maintenance.
Artificial turf is fantastic for your pool area's aesthetics. It stays lush and green throughout the year, requiring no water or sunlight. You can customize it to fit your pool area perfectly, creating a visually appealing and seamless space.
In addition, Artificial turf is a fantastic choice for pool areas regarding hygiene. Unlike natural grass, it doesn't attract pests, allergens, or bacteria, so that you can enjoy a cleaner and safer environment for your family.
You don't need to worry about artificial turf fading over time. Unlike natural grass, which can turn all brown and sad in hot and dry conditions, artificial turf is made to withstand the sun. It's made with unique UV-resistant materials that keep it looking vibrant and green, even after years of use. So, you can enjoy your beautiful, green lawn all year round without stressing about it fading or losing its color.
You can safely place heavy furniture on artificial turf without causing any harm. Artificial turf is built to withstand heavy foot traffic and diverse furniture. Using furniture pads or coasters under the legs is always a smart move to ensure even weight distribution and prevent any possible damage or indentations. This way, you can enjoy outdoor furniture on your artificial turf without worrying about adverse effects.
Artificial turf is an excellent option for your outdoor area. It holds up well under extreme weather conditions like intense heat, cold, and heavy rainfall while maintaining its aesthetic appeal and functionality. No matter where you live, you can rely on artificial turf to be durable and reliable for years.
In summer, artificial turf is specially made to handle high temperatures without melting. Plus, its smart design ensures it does not absorb much heat, so you won't burn your feet on scorching days. That's why it's an excellent choice for walking or just chilling out, even when it's blazing hot.
During chilly weather conditions, artificial turf exhibits resistance to freezing and frost. Ensuring it remains intact without becoming brittle or susceptible to breakage caused by low temperatures. Its remarkable quality allows you to relish the benefits of artificial turf throughout the year.
During heavy rainfall, artificial turf excels at draining water. Its permeability allows for easy water flow, preventing pooling or flooding. Hence it ensures your outdoor space remains usable and safe, even when rain is pouring down.
Indeed, artificial turf is fire-resistant. Its high-quality materials resist burning and melting, making it a secure choice for outdoor spaces, especially in areas prone to fire hazards. However, remember that while it's fire-resistant, it's not fireproof. Direct contact with open flames or extreme heat sources can still cause damage or melting. To ensure its longevity, exercise caution and avoid placing hot objects or fire sources directly on the artificial turf.
High-quality synthetic grass comes with a significant advantage: stain resistance. Due to its innovative technologies, fake grass remains resilient against various substances that could cause unsightly stains. You can easily clean common stains like food spills, pet urine, and oil.
Synthetic grass is resistant to stains because of the materials used in its construction. High-quality artificial turf is usually made from durable polyethylene or polypropylene, naturally resistant to staining. Moreover, the fibers in synthetic grass often receive a protective coating that boosts its stain resistance even further.
Act promptly when spills or stains occur to keep your fake grass stain resistant. You can remove most stains by rinsing the area with water and using mild detergent. You can use a vinegar and water solution or a synthetic grass cleaner for tougher stains. Always follow the manufacturer's cleaning instructions to avoid damaging the turf.
Specific substances or chemicals might lead to discoloration or staining on synthetic grass in certain situations. For instance, fertilizers or pesticides containing iron or other chemicals can leave rust stains on the turf. Avoiding the use of products near synthetic grass is essential to prevent stains. If accidental contact happens, quickly rinsing the affected area with water can help minimize the risk of staining.
While artificial turf is generally stain-resistant, it's worth noting that it's not entirely stain-proof. Certain substances, like permanent markers or specific dyes, can leave a lasting mark on the grass if not cleaned properly. Therefore, it's always a good idea to be cautious and avoid exposing synthetic grass to any substances that could result in permanent staining.
No, synthetic grass doesn't usually get mildew. Unlike natural grass, artificial grass lacks organic materials that could promote mold or mildew growth. However, in rare cases where mildew may develop due to poor installation. To prevent this, ensure the installation area has proper drainage and airflow. Regular cleaning and maintenance will help prevent mold or mildew on synthetic grass per the manufacturer's recommendations. If you spot any signs of decay, promptly clean and treat the affected area. It's always best to consult with Vision Turf, Paver, or the manufacturer for specific guidance and recommendations
To find out if you can get water rebates for installing artificial turf in your area, check with your local water district or city government. They'll provide info on available rebates and the requirements to qualify. Remember, water rebates vary by location, so it's best to consult the authorities for accurate and up-to-date details.
You can install artificial turf over concrete. But you need to consider several factors to ensure proper installation. Consider the following elements for successful installation:
Before diving in, giving the concrete surface some TLC is essential. Start by getting rid of any debris, dirt, or loose materials. A good sweep or pressure wash should do the trick and give you a nice, clean, and smooth canvas to work on.
Afterward, speak layer of stone and base material evenly on the concrete. Doing this levels the surface, which ensures proper drainage.
After preparing the base material, lay out the artificial grass and attach it firmly to the concrete using adhesive or turf nails. Be meticulous when trimming and aligning the edges to ensure a flawless and expert installation.
When installing artificial turf over concrete, it's crucial to consider drainage. Water pooling on the surface can lead to issues. To ensure proper drainage, opt for synthetic grass with a permeable backing and apply a layer of infill material, such as sand or rubber granules.
Synthetic turf or astroturf is a go-to pick for sports fields. An astroturf is durable, has minimum maintenance, and has impressive performance. Here are reasons why artificial turf is an excellent option for sports fields.
1. Durability
Synthetic turf is a fantastic option for sports fields with high-intensity action. An astroturf can withstand heavy foot traffic and frequent use. Ensuring athletes have a reliable and durable surface. You can bid farewell to concerns about wear and tear because this turf is built to endure intense play.
2. Consistent playing surface
Sports turf offers a consistent playing surface, enabling athletes to showcase their best performance. Unlike natural grass, synthetic turf avoids the formation of uneven patches or divots, creating a level and predictable field for the game.
3. All-weather usability
Turf fields are great because you can use them in any weather. You can count on a reliable playing surface even if it pours rain or drought. It doesn't get all muddy, and it drains fast. That means you can keep playing games and practicing without any interruptions.
4. Injury prevention
Sports fields with Astroturf prioritize safety above all. Its design ensures excellent shock absorption, significantly reducing the risk of injuries from falls and impacts. Plus, the even and consistent surface helps prevent tripping and twisting, making the field even safer.
5. Low maintenance
Keeping natural grass sports fields in top condition can be a real hassle, not to mention expensive. But with synthetic turf, you get the best of both worlds. It needs minimal upkeep, so say goodbye to mowing, watering, and fertilizing. That means you save both time and money in the long run.
When choosing turf fields for sports, it's crucial to consider the unique needs of the sport and its level of play. Different sports may require varying turf density, infill materials, and shock absorption, like crumb rubber. Consulting an expert like Vision Turf is a great idea to ensure the best performance. We will tailor the athletic fields to meet your specific requirements of the sport, guaranteeing optimal performance and safety for players.